WTM Preview
Back in full swing
WTM London returns with more than 3,000 exhibitors, a focus on technology and sustainability, while also probing into space travel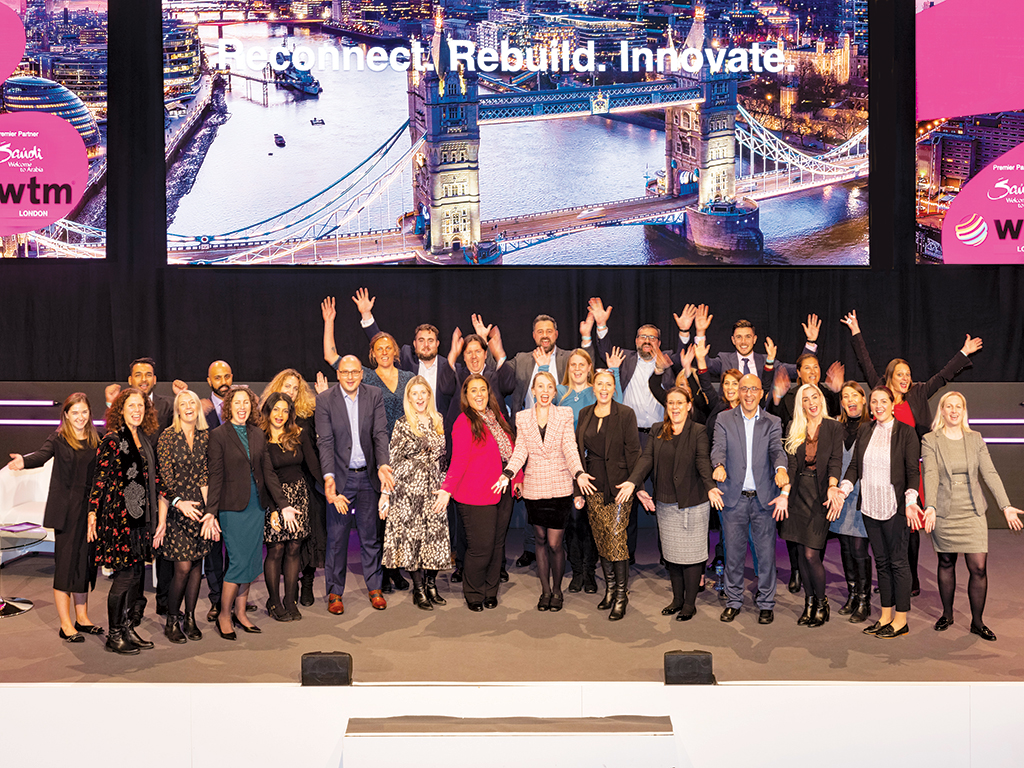 World Travel Market (WTM) London (November 7-9), is expecting to facilitate a record number of deals this year with a growing number of new and returning exhibitors, making the event a must-attend for travel buyers from around the globe.
NEW EXHIBITORS
Across all areas of the exhibition floor, new faces will be present, as well as familiar ones. There are more than 3000+ exhibitors confirmed, more than 70 of which are making their WTM London debut.
Some of the highest-profile new participants can be found in the 'International Hub' region of the show, with global representatives from hotel giants such as Hilton and Wyndham Hotels & Resorts.
International Hub will for the first time host bedbank Yalago – part of the Emirates Group, transport rental firm OK Mobility and destination management company Intrepid.
Public, private and hybrid destination management companies and tourist boards are making their presence felt at this year's event. Organisers are particularly pleased to welcome back the Brazilian tourist board Embratur, with other returnees representing destinations as diverse as Kyrgyzstan and Rwanda.
First-time destination-driven exhibitors include the Association of Ugandan Tour Operators and representatives from the Azadi International Tourism Organization, showcasing hotels, eco safaris, villages and climbing tours available in Iran.
Elsewhere, there will be a greater presence this year from the more established leisure destinations such as the Caribbean, Spain and Portugal. The UK and Ireland stand will be twice the size of last year, hosting more than 50 partners and reflecting the continuing interest in the UK and Ireland as a staycation destination and its appeal for inbound visitors.
This year's technology hall will include for the first time Sojern, one of the world's leading travel-specific marketing platforms. UK-based Vamp, which helps travel companies work with influencers, and US-based car rental aggregator Sofiac are among the dozen or so technology businesses also testing the WTM London waters.
Juliette Losardo, WTM London Exhibition Director, said: "We are delighted to welcome brand new exhibitors to this year's event – new organisations participating is essential to moving the sector forward, as well as being very pleased to see some of our long term loyal exhibitors return. These new and returning participants come from all corners of the globe – there are now exhibitors from more than 100 countries confirmed."
WATCH THIS SPACE
The former President of Virgin Galactic, Will Whitehorn, is set to present a keynote at WTM London, exploring the astronomic potential for space tourism. This will be the first time that WTM London – the largest travel industry event globally – will feature space travel on its main stage.
Whitehorn will explore whether widespread space tourism really is feasible; what it could look like in the decades to come; and the sky-high opportunities for the travel and tourism sector.
The session will also ask if we should even consider space tourism given the climate emergency, and why billionaires such as Sir Richard Branson, Jeff Bezos and Elon Musk are obsessed with the space race.
Whitehorn will be able to talk about working for Sir Richard Branson and how to sell a dream when the product has not yet been launched.
Space tourism is making international headlines again, thanks to Bezos' Blue Origin, Branson's Virgin Galactic and Elon Musk's SpaceX.
Financial services company UBS has estimated the space travel market will be worth $4 billion by 2030, despite setbacks such as the pandemic.
In August 2022, Blue Origin successfully completed its sixth human spaceflight, carrying a YouTube star, an entrepreneur, a mountaineer, a technology leader, an engineer and a telecommunications executive.
However, Virgin Galactic announced the launch of its commercial passenger service would be delayed again, this time until the second quarter of 2023.
Virgin Galactic signed a deal in July to enable members of the luxury Virtuoso agent network to sell Virgin Galactic space flights – although with seats selling at the standard price of $450,000, the astronomic costs are beyond the reach of most tourists.
Last September, SpaceX made history by launching the first mission to space with an all-civilian crew in a reusable Falcon 9 rocket.
TECHNOLOGY
Sabre Hospitality will be the sponsor of Technology Stage at this year's World Travel Market; with company President, Scott Wilson, leading a session on how retailing will revolutionise hospitality.
Sabre Hospitality is a leading technology provider for the hospitality industry, powering hotels across nearly 200 countries and territories.
Wilson said: "We are delighted to return to WTM this year. As one of the leading events for the travel industry, WTM provides us with the opportunity to connect with global customers and to showcase our latest innovations. In today's fast-moving market, it is more important than ever to maintain connections with customers, partners and associates, and events such as WTM provide a great platform for us to do this."
The Sabre-sponsored travel tech stage at this year's WTM London features A-list speakers from some of the industry's most important companies, such as Expedia, Thomas Cook, hotelbeds, Accor and Travel Republic. Charlotte Lamp Davies, founder of consultancy A Bright Approach, will be hosting a series of sessions on the Tuesday covering topics including AI and big data, with another panel discussion looking at how travel companies can address the tech talent crisis facing many industries.
BUYERS BENEFIT
For buyers, the ever-popular speed networking event takes place on the first two days of the show (Monday 7 November and Tuesday 8 November) from 08:30 to 10am. A dedicated lounge will be available to The Buyers Club, and buyers will have access to WTM Connect Me – a platform to schedule meetings ahead of arrival.
"Buyers attending this year's WTM London have the chance to meet with thousands of potential clients, reconnect with industry peers and come away inspired with new ideas. 2022 promises to be one of the most important WTM's to date," Losardo said.